A Proud Tradition Since 1939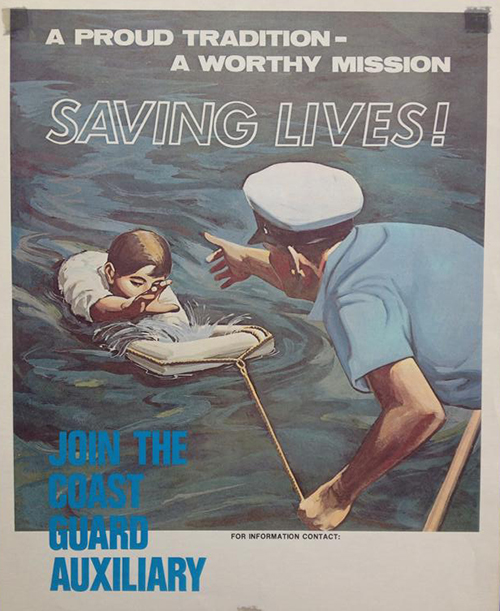 So you're interested in joining the US Coast Guard Auxiliary? We are the uniformed volunteer component of the United States Coast Guard. Originally established by Congress in 1939 as the Coast Guard Reserve and later changed to the Auxiliary in 1941, we continue to serve as America's preeminent volunteer maritime organization over 75 years later. The Auxiliary exists to support all U.S. Coast Guard missions except roles that require "direct" law enforcement or military engagement. With proper training, Auxiliarists can serve on nearly any Coast Guard asset utilizing an Auxiliarist's previously acquired skills.
Historically, the primary missions of the Auxiliary have been providing free vessel "safety checks," boater education and supplementing other USCG operations. The Auxiliary's four cornerstones are Member Services, Operations and Marine Safety, Recreational Boating Safety and Fellowship (the "glue" which holds the Auxiliary's missions and its members together).
Auxiliarists can be found on the nation's waterways, in the air, in classrooms and on the dock, performing maritime domain awareness patrols, safety patrols, vessel safety checks and public education. Additionally, the Auxiliary performs behind the scenes missions in support of USCG operations. Annually, members donate millions of hours in support of USCG missions. This saves the U.S. Coast Guard and taxpayers over $200 million per year.
To become a member, you must:
Be an American citizen. You must provide proof of citizenship, both the original and a copy
Be 17 years or older. Prospective members who are 17 most have parental consent before joining. We have no age limit.
Possess a clean background. Certain minor misdemeanors may be waiverable on a case-by-case basis.
Pay member dues annually ($50 per for 2014).
Pass a personnel security investigation which requires being fingerprinted and photographed.
Pass our new member exam.
Sit the new member interview.
Submit your DD-214 and clearance paperwork if you are prior service or have a security clearance.
Be willing to spend time supporting the Auxiliary.
Be able to afford time and money spent on dues, uniforms, and travel.
Please realize that we are a volunteer organization, not a form of enlistment for the Coast Guard. We are only reimbursed for certain expenses. You will not be paid. This is not a means of employment!
Frequently Asked Questions
What do you guys do?




How often do I need to participate?

What kind of skills do you need to join?

What is your flotilla like?

How soon can I get involved?

Do I have to wear a uniform?

Is there a physical test? What about the ASVAB?

Where do you meet?

I don't live in Philadelphia. Can I join your flotilla?

I have been convicted of a crime. Can I join?
Join Now
Please download and read the New Member Reference Guide for more information. After filling out the contact form, our HR officer will be in touch. They will invite you to our New Member Training (every 1st Saturday of the month at 0800) or our flotilla meeting (every 3rd Tuesday at 1900) depending on which is closer. There you will receive an application and guidance on completing your membership packet.
If you are serious about joining, please fill out the following form. Our Human Resources officer will be in contact with you shortly.